Spotlight
Doubly Stochastic Variational Inference for Deep Gaussian Processes
Hugh Salimbeni · Marc Deisenroth
Wed Dec 06 05:25 PM -- 05:30 PM (PST) @ Hall C
Deep Gaussian processes (DGPs) are multi-layer generalizations of GPs, but inference in these models has proved challenging. Existing approaches to inference in DGP models assume approximate posteriors that force independence between the layers, and do not work well in practice. We present a doubly stochastic variational inference algorithm, which does not force independence between layers. With our method of inference we demonstrate that a DGP model can be used effectively on data ranging in size from hundreds to a billion points. We provide strong empirical evidence that our inference scheme for DGPs works well in practice in both classification and regression.
Author Information
Hugh Salimbeni (Imperial College London)
Marc Deisenroth (Imperial College London)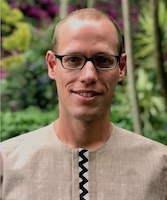 Professor Marc Deisenroth is the DeepMind Chair in Artificial Intelligence at University College London and the Deputy Director of UCL's Centre for Artificial Intelligence. He also holds a visiting faculty position at the University of Johannesburg and Imperial College London. Marc's research interests center around data-efficient machine learning, probabilistic modeling and autonomous decision making. Marc was Program Chair of EWRL 2012, Workshops Chair of RSS 2013, EXPO-Co-Chair of ICML 2020, and Tutorials Co-Chair of NeurIPS 2021. In 2019, Marc co-organized the Machine Learning Summer School in London. He received Paper Awards at ICRA 2014, ICCAS 2016, and ICML 2020. He is co-author of the book [Mathematics for Machine Learning](https://mml-book.github.io) published by Cambridge University Press (2020).
Related Events
(a corresponding poster, oral, or spotlight)
More from the Same Authors