Imitation Learning from Pixel Observations for Continuous Control
Samuel Cohen · Brandon Amos · Marc Deisenroth · Mikael Henaff · Eugene Vinitsky · Denis Yarats
Event URL: https://openreview.net/forum?id=Xe5MFhFvYGX »
We study imitation learning from visual observations only for controlling dynamical systems with continuous states and actions. This setting is attractive due to the large amount of video data available from which agents could learn from. However, it is challenging due to $i)$ not observing the actions and $ii)$ the high-dimensional visual space. In this setting, we explore recipes for imitation learning based on adversarial learning and optimal transport. These recipes enable us to scale these methods to attain expert-level performance on visual continuous control tasks in the DeepMind control suite. We investigate the tradeoffs of these approaches and present a comprehensive evaluation of the key design choices. To encourage reproducible research in this area, we provide an easy-to-use implementation for benchmarking visual imitation learning, including our methods and expert demonstrations.
Author Information
Samuel Cohen (University College London)
Brandon Amos (Carnegie Mellon University)
Marc Deisenroth (University College London)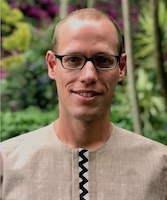 Professor Marc Deisenroth is the DeepMind Chair in Artificial Intelligence at University College London and the Deputy Director of UCL's Centre for Artificial Intelligence. He also holds a visiting faculty position at the University of Johannesburg and Imperial College London. Marc's research interests center around data-efficient machine learning, probabilistic modeling and autonomous decision making. Marc was Program Chair of EWRL 2012, Workshops Chair of RSS 2013, EXPO-Co-Chair of ICML 2020, and Tutorials Co-Chair of NeurIPS 2021. In 2019, Marc co-organized the Machine Learning Summer School in London. He received Paper Awards at ICRA 2014, ICCAS 2016, and ICML 2020. He is co-author of the book [Mathematics for Machine Learning](https://mml-book.github.io) published by Cambridge University Press (2020).
Mikael Henaff (Facebook AI Research)
Eugene Vinitsky (UC Berkeley)
Denis Yarats (New York University)
More from the Same Authors