On Combining Expert Demonstrations in Imitation Learning via Optimal Transport
ilana sebag · Samuel Cohen · Marc Deisenroth
Imitation learning (IL) seeks to teach agents specific tasks through expert demonstrations. One of the key approaches to IL is to define a distance between agent and expert and to find an agent policy that minimizes that distance. Optimal transport methods have been widely used in imitation learning as they provide ways to measure meaningful distances between agent and expert trajectories. However, the problem of how to optimally combine multiple expert demonstrations has not been widely studied. The standard method is to simply concatenate state (-action) trajectories, which is problematic when trajectories are multi-modal. We propose an alternative method that uses a multi-marginal optimal transport distance and enables the combination of multiple and diverse state-trajectories in the OT sense, providing a more sensible geometric average of the demonstrations. Our approach enables an agent to learn from several experts, and its efficiency is analyzed on OpenAI Gym control environments and demonstrates that the standard method is not always optimal.
Author Information
ilana sebag (University College London)
Samuel Cohen (University College London)
Marc Deisenroth (University College London)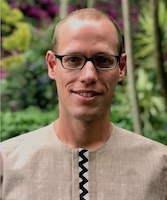 Professor Marc Deisenroth is the DeepMind Chair in Artificial Intelligence at University College London and the Deputy Director of UCL's Centre for Artificial Intelligence. He also holds a visiting faculty position at the University of Johannesburg and Imperial College London. Marc's research interests center around data-efficient machine learning, probabilistic modeling and autonomous decision making. Marc was Program Chair of EWRL 2012, Workshops Chair of RSS 2013, EXPO-Co-Chair of ICML 2020, and Tutorials Co-Chair of NeurIPS 2021. In 2019, Marc co-organized the Machine Learning Summer School in London. He received Paper Awards at ICRA 2014, ICCAS 2016, and ICML 2020. He is co-author of the book [Mathematics for Machine Learning](https://mml-book.github.io) published by Cambridge University Press (2020).
More from the Same Authors