Short-term Prediction and Filtering of Solar Power Using State-Space Gaussian Processes
So Takao · Sean Nassimiha · Peter Dudfield · Jack Kelly · Marc Deisenroth
Event URL: https://www.climatechange.ai/papers/neurips2022/14 »
Short-term forecasting of solar photovoltaic energy (PV) production is important for powerplant management. Ideally these forecasts are equipped with error bars, so that downstream decisions can account for uncertainty. To produce predictions with error bars in this setting, we consider Gaussian processes (GPs) for modelling and predicting solar photovoltaic energy production in the UK. A standard application of GP regression on the PV timeseries data is infeasible due to the large data size and non-Gaussianity of PV readings. However, this is made possible by leveraging recent advances in scalable GP inference, in particular, by using the state-space form of GPs, combined with modern variational inference techniques. The resulting model is not only scalable to large datasets but can also handle continuous data streams via Kalman filtering.
Author Information
So Takao (University College London)
Sean Nassimiha (UCL)
Peter Dudfield (Open Climate Fix)
Jack Kelly (Open Climate Fix)
Marc Deisenroth (University College London)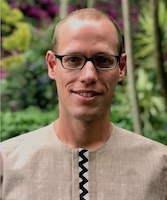 Professor Marc Deisenroth is the DeepMind Chair in Artificial Intelligence at University College London and the Deputy Director of UCL's Centre for Artificial Intelligence. He also holds a visiting faculty position at the University of Johannesburg and Imperial College London. Marc's research interests center around data-efficient machine learning, probabilistic modeling and autonomous decision making. Marc was Program Chair of EWRL 2012, Workshops Chair of RSS 2013, EXPO-Co-Chair of ICML 2020, and Tutorials Co-Chair of NeurIPS 2021. In 2019, Marc co-organized the Machine Learning Summer School in London. He received Paper Awards at ICRA 2014, ICCAS 2016, and ICML 2020. He is co-author of the book [Mathematics for Machine Learning](https://mml-book.github.io) published by Cambridge University Press (2020).
More from the Same Authors