Optimal Transport for Offline Imitation Learning
Yicheng Luo · zhengyao Jiang · Samuel Cohen · Edward Grefenstette · Marc Deisenroth
Event URL: https://openreview.net/forum?id=l8fCMWrR9U »
With the advent of large datasets, offline reinforcement learning is a promising framework for learning good decision-making policies without the need to interact with the real environment.However, offline RL requires the dataset to be reward-annotated, which presents practical challenges when reward engineering is difficult or when obtaining reward annotations is labor-intensive.In this paper, we introduce Optimal Transport Reward labeling (OTR), an algorithm that can assign rewards to offline trajectories, with a few high-quality demonstrations. OTR's key idea is to use optimal transport to compute an optimal alignment between an unlabeled trajectory in the dataset and an expert demonstration to obtain a similarity measure that can be interpreted as a reward, which can then be used by an offline RL algorithm to learn the policy. OTR is easy to implement and computationally efficient. On D4RL benchmarks, we show that OTR with a single demonstration can consistently match the performance of offline RL with ground-truth rewards.
Author Information
Yicheng Luo (University College London)
zhengyao Jiang (University College London)
Samuel Cohen (University College London)
Edward Grefenstette (Cohere & University College London)
Marc Deisenroth (University College London)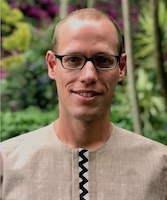 Professor Marc Deisenroth is the DeepMind Chair in Artificial Intelligence at University College London and the Deputy Director of UCL's Centre for Artificial Intelligence. He also holds a visiting faculty position at the University of Johannesburg and Imperial College London. Marc's research interests center around data-efficient machine learning, probabilistic modeling and autonomous decision making. Marc was Program Chair of EWRL 2012, Workshops Chair of RSS 2013, EXPO-Co-Chair of ICML 2020, and Tutorials Co-Chair of NeurIPS 2021. In 2019, Marc co-organized the Machine Learning Summer School in London. He received Paper Awards at ICRA 2014, ICCAS 2016, and ICML 2020. He is co-author of the book [Mathematics for Machine Learning](https://mml-book.github.io) published by Cambridge University Press (2020).
More from the Same Authors